Singapore is no stranger to the finest gems and jewels from around the world, and this month, Cartier graces the city with its latest "Beautés du Monde" high jewellery collection.
Hosted in a specially designed exhibition space at Capella Singapore, the showcase is a testament to Cartier's enduring legacy in the world of luxury jewellery.
The "Beautés du Monde" collection is a celebration of the world's natural wonders, drawing inspiration from diverse landscapes, from the icy terrains of the Arctic to the tropical forests of the Amazon.
Each piece in the collection is meticulously crafted, embodying the spirit of the region it represents. As Cartier has always been at the forefront of innovation and craftsmanship, this collection is a harmonious blend of traditional techniques and contemporary design.
Key pieces from the collection have garnered attention for their intricate designs and exceptional gemstones. The use of vibrant colored gemstones, including sapphires, emeralds, and rubies, is evident, reflecting the rich tapestry of our global environment.
Moreover, the pieces display Cartier's dedication to sourcing only the most ethically obtained gemstones, reinforcing the brand's commitment to sustainability and ethical practices in the jewellery industry.
The Obi Necklace
Inspired by Japanese rising sun fabrics, the Obi necklace celebrates Japan's culture, a long-time muse for the Maison. It features eight emeralds, notably a 12.53-carat from Zambia, contrasted by rubies and onyx inserts. This Cartier piece, showcasing a signature color harmony, has a detachable pendant that doubles as a brooch.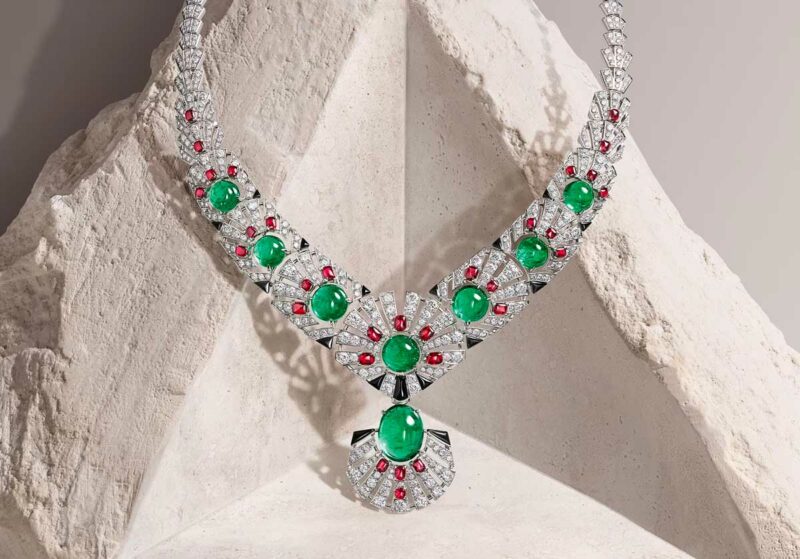 The Ocelle Necklace
The Ocelle necklace, inspired by the peacock, features two opals and a Zambian emerald pendant. Its design mimics the bird's spotted plumage with onyx-trimmed motifs that are flexible and overlapping. The upper opal can be detached and worn as a brooch.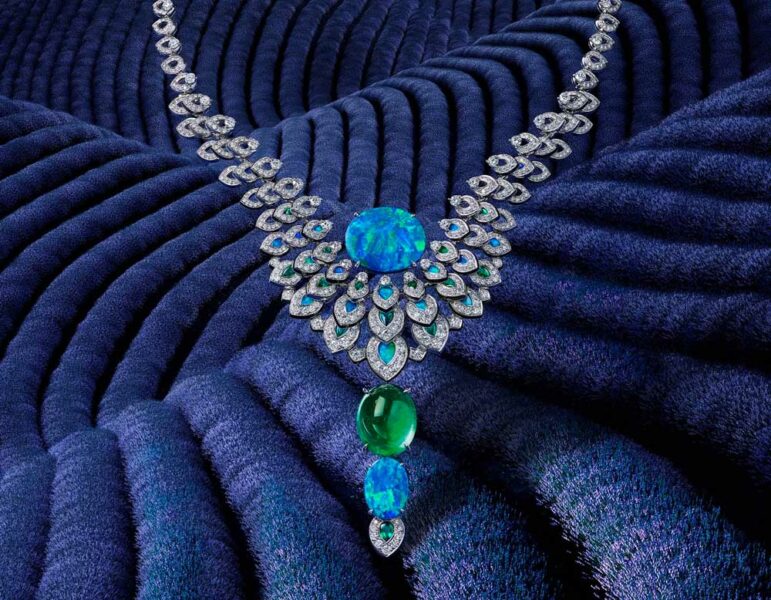 In addition to the displayed pieces, attendees of the exhibition will have the opportunity to experience interactive installations that delve deeper into the stories behind the jewels. These installations provide insights into the craftsmanship, design process, and the rich history of Cartier.
Singapore's vibrant jewellery trade community has welcomed the exhibition, noting its significance in the ever-evolving world of high jewellery. The showcase not only solidifies Cartier's position as a leading luxury jewellery brand but also reaffirms Singapore's stature as a global hub for luxury trade and exhibitions.
For those in the jewellery trade, the "Beautés du Monde" collection offers a chance to witness firsthand the mastery and innovation that Cartier brings to the table. The exhibition is an invitation to immerse oneself in the world of Cartier and to be inspired by the brand's relentless pursuit of excellence.